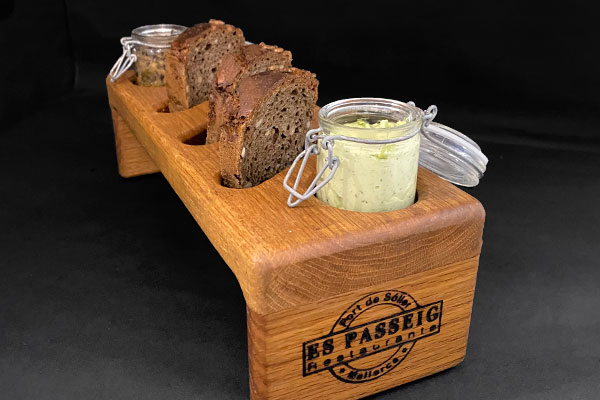 mediterranean bread
baked with orange and lemon with Olive tapenade and dip.
4,20 €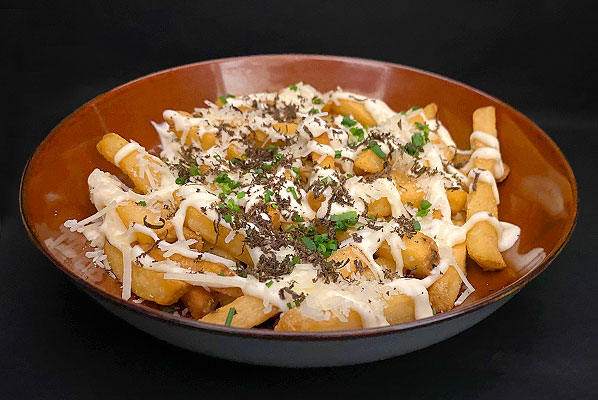 Truffle fries
with truffled mayonnaise, black truffle, parmesan and chives.
6,90 €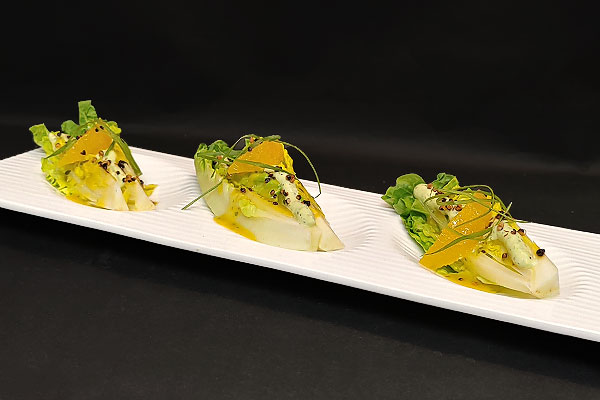 Marinated lettuce hearts
with oranges from Sóller, fine herb sauce, orange vinaigrette, fermented garlic and crispy quinoa.
10,90 €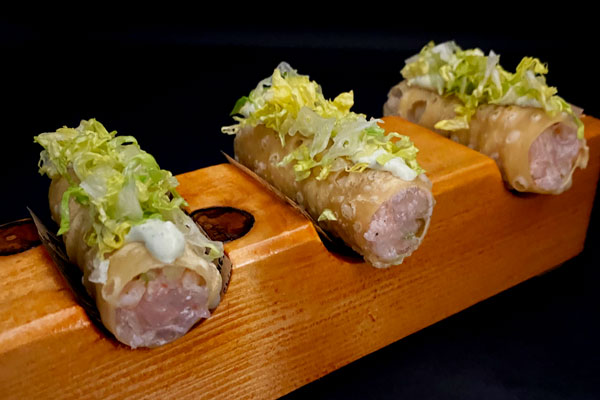 Cannelloni
3 crispy cold Cannelloni filled with raw tartar of Sóller prawns and green pepper sauce.
16,90 €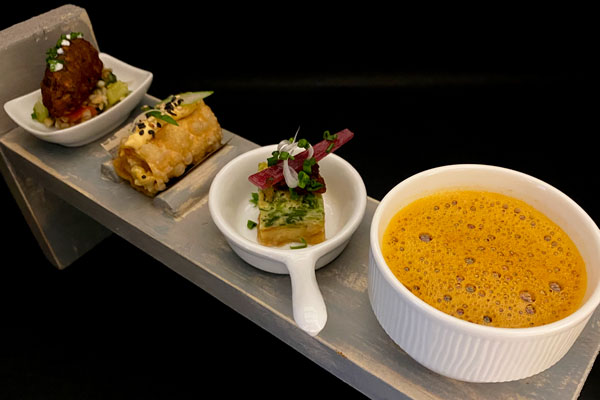 Our mini world tour
a small variation, let yourself be surprised
Price per person.
12,50 €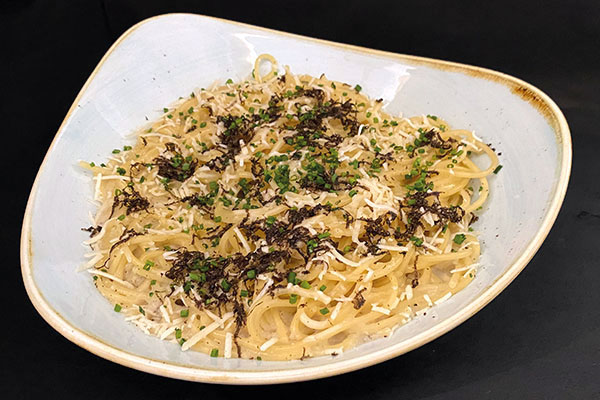 Spaghettis
spaghettis turned in a Parmesan wheel with black truffle, truffle sauce and chives.
small 13,90 € | large 19,90 €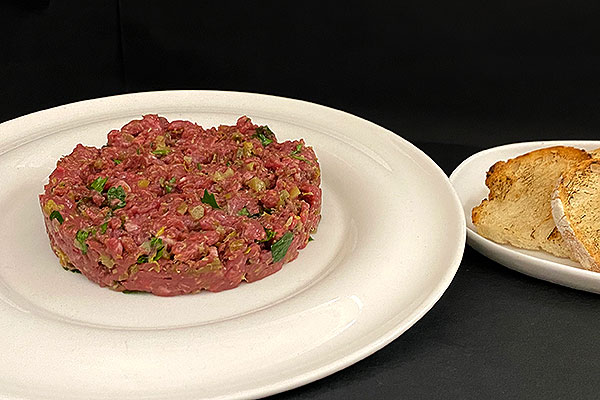 Raw beef steak tartare
of Angus Beef freshly made, served with toasted bread.
100gr 15,50 € | 180gr 24,50 €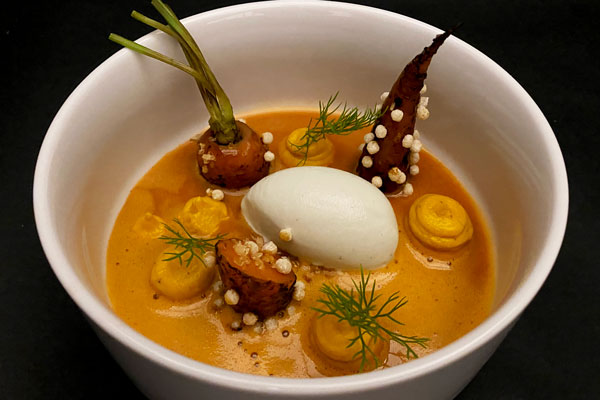 BBQ Orange Carrot Gazpacho
Cold BBQ orange carrot gazpacho soup
with roquefort ice cream, oven mashed carrots, carrot and almond .
8,90 €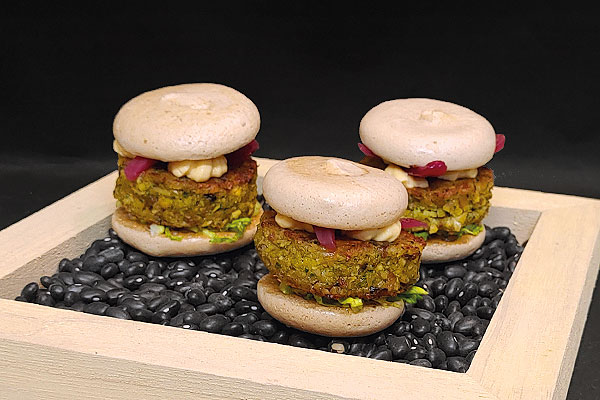 mini Vegeterian Burgers
three mini Magic Vegeterian Burgers with Merengue, dashi, shiitake, falafel, sweet and sour onion, mimolet cheese sauce.
10,90 €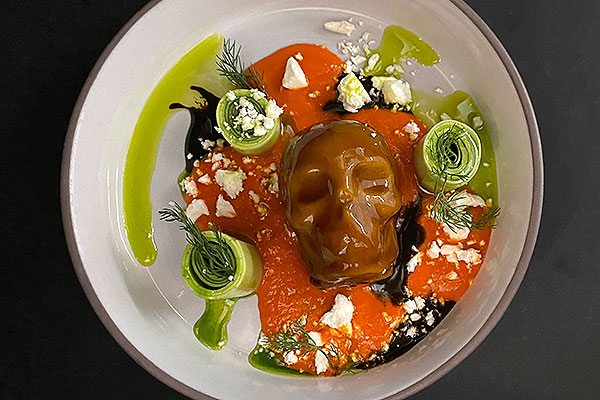 Eggplant
skull in Majorcan pirate style, mushroom Dashi, red pepper reduction, marinated zucchini, herb oil, Feta, garlic croutons.
11,90 €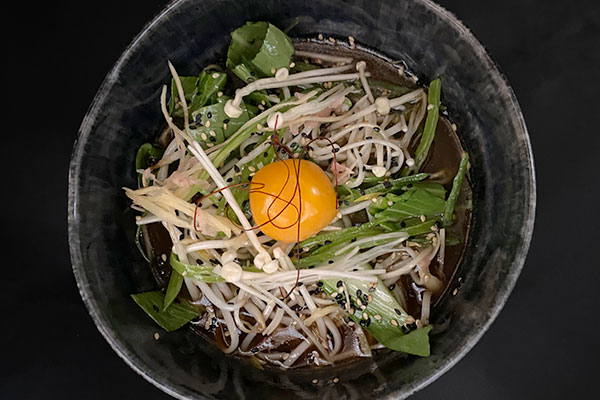 chicken egg
60 minutes sous vide cooked free range chicken egg in ramen broth with sesame noodles chili, enoki mushrooms, pak choi, sprouts, soy sauce, miso, ginger and snow peas.
12,90 €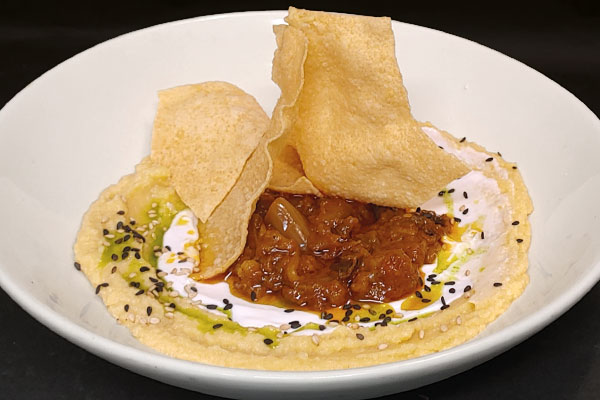 Hummus
with sesame, Moroccan aubergine, garlic yoghurt, cumin, herb oil and Papadum bread.
8,90 €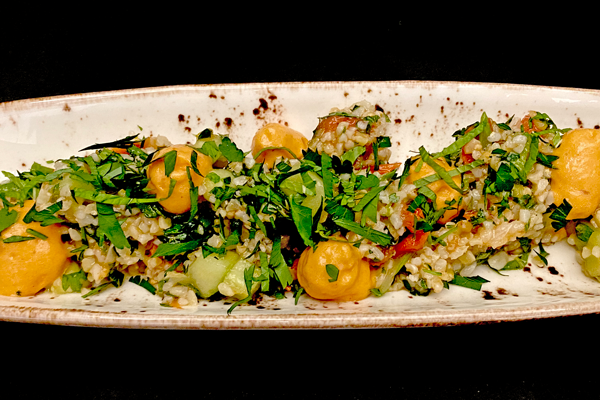 Tabbouleh salad
with bulgur, cucumber, tomato espuma, parsley, mint, spring onions
6,90 €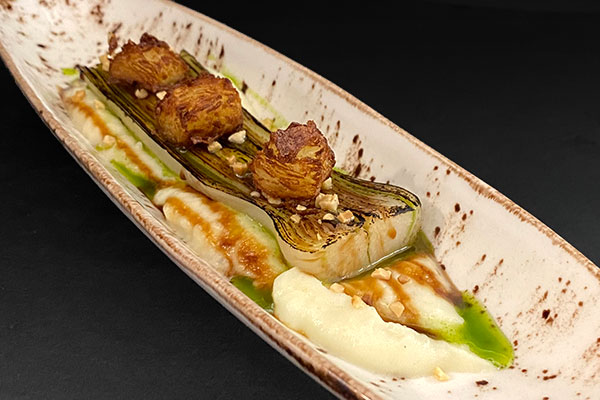 Flamed leek
with semi-liquid mashed potatoes, parsley oil, almond brittle and potato sail.
9,90 €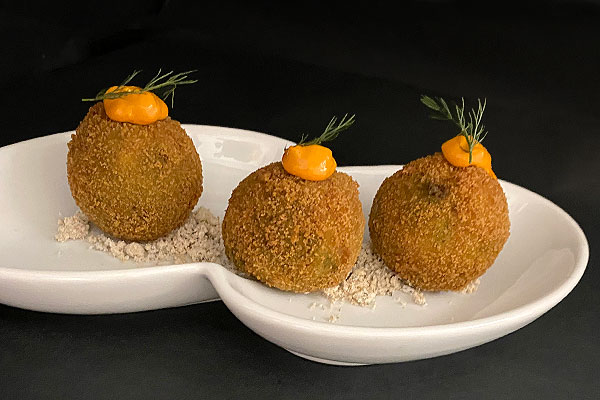 Croquettes
Garden herb croquettes with charcoal paprika cream and chives.
7,50 €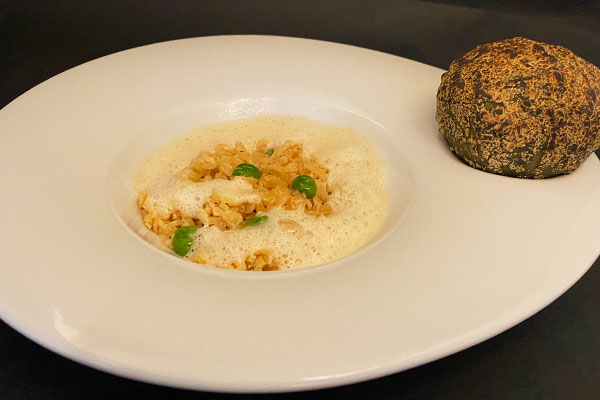 Whole potato
cooked in a herb-salt coating with Beurre blanc coffee sauce braised Noilly Prat Vermouth shallots and spinach cream.
11,90 €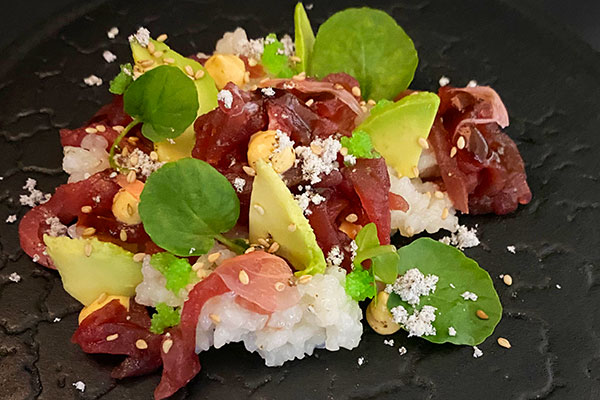 Open Sushi
with marinated tuna, lemongrass-ginger, avocado, nori powder, kimchi mayonnaise, sesame and wasabi caviar.
13,90 €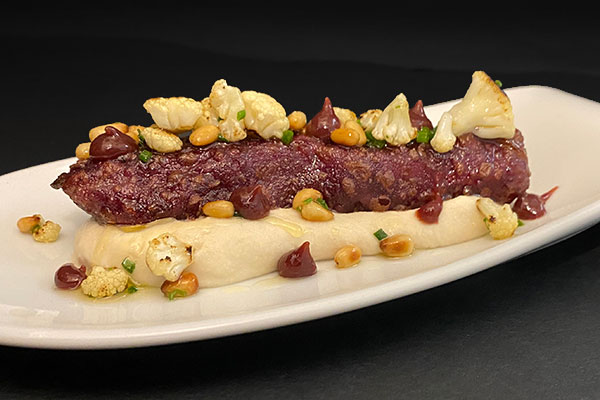 Turbot fillet
in cassis pepper tempura batter, cauliflower puree, tamarind gel, roasted cauliflower florets, pine nut butter and chives.
13,90 €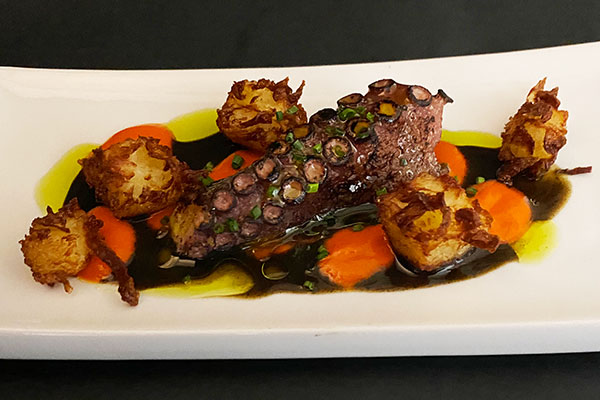 Roasted octopus
with Mexican ash sauce, paprika reduction, crispy potatoes, herb oil and smoked paprika.
12,90 €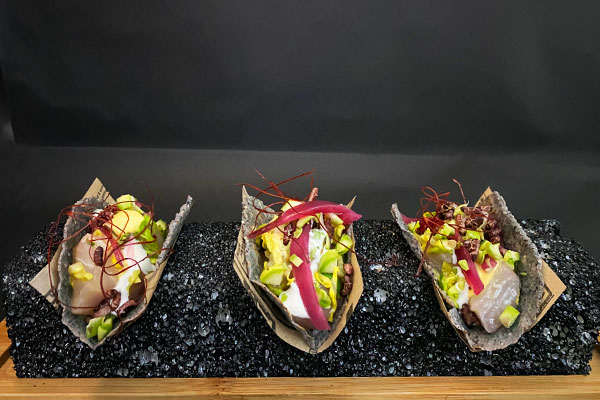 Purple corn tacos
with yellowtail fish ceviche and saffron cockle sauce, chilli threads, onions, asparagus, lemon Crème fraîche and puffed rice.
10,90 €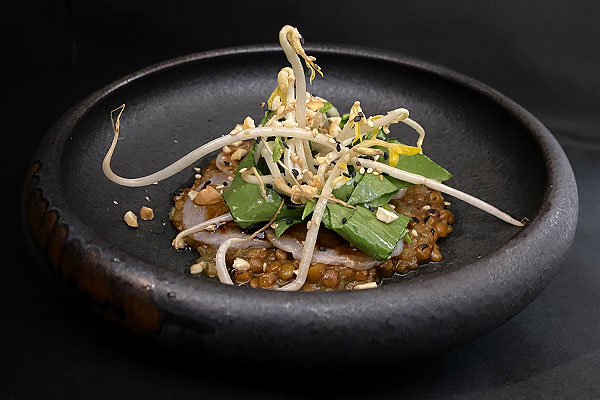 Lentils with Monkfish
Creamy curry lentils with flambéed monkfish and teriyaki marinade, salad of bean sprouts, ginger and snow peas.
13,90 €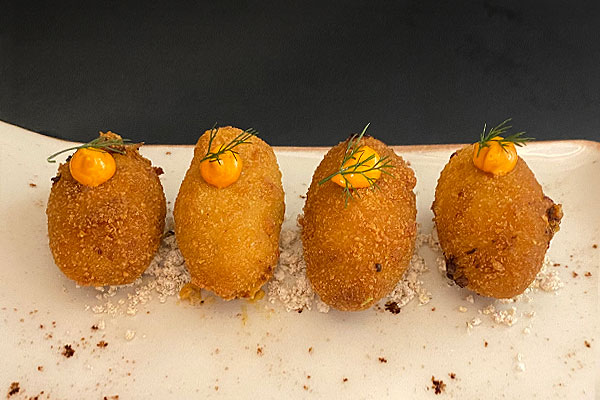 Croquettes
spanish chorizo croquettes with charcoal paprika sauce and chives.
7,50 €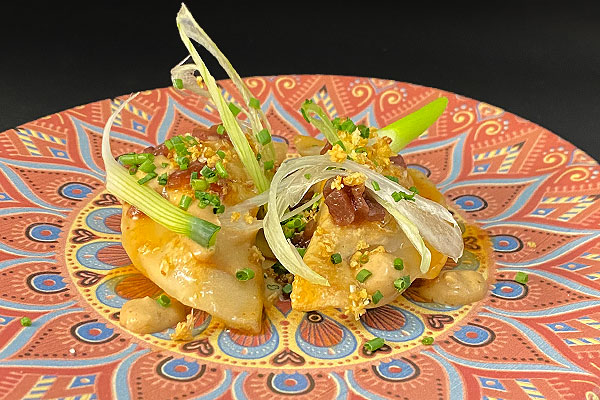 Duck gyozas
smoked at the table in a ceviche broth with peanut sauce, spring leek, fried garlic and red wine onion chutney.
10,90 €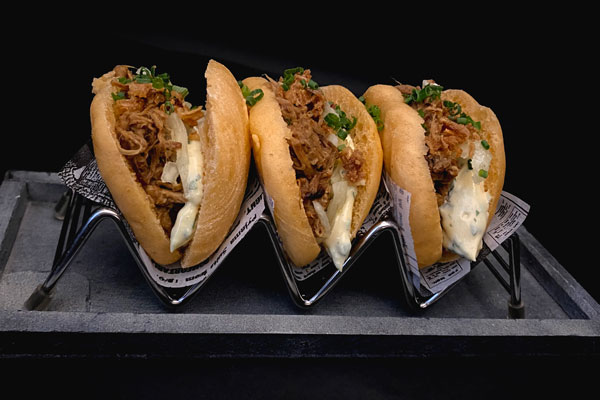 Bao buns
filled with pulled pork, coleslaw and jalapeño-smoked roasted-onion cream.
13,00 €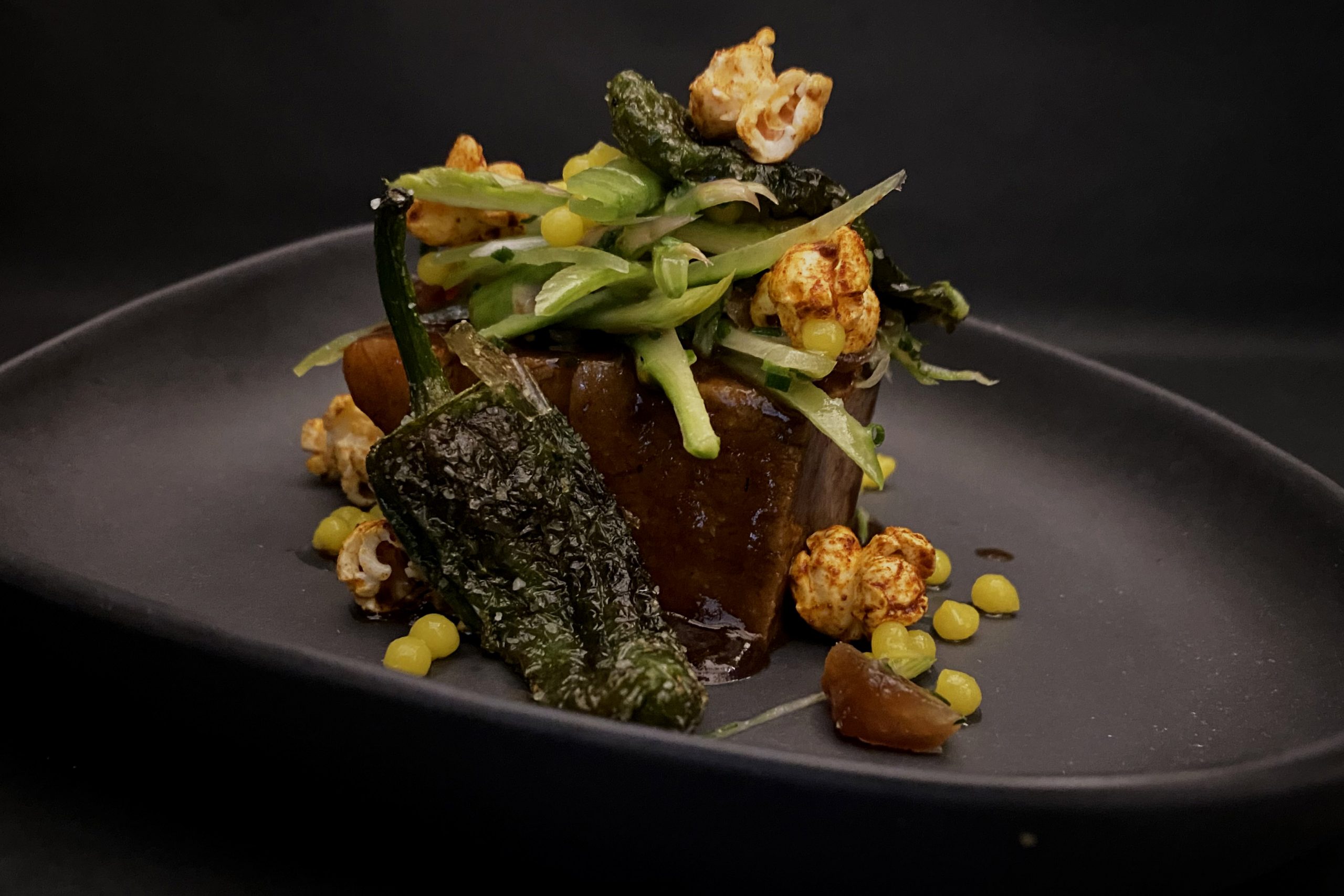 beef neck
72 hours sous vide cooked neck of beef with Jus, sweet corn, smoked popcorn, Pimientos de Padron, asparagus, dates, snow peas, spring leeks .
14,90 €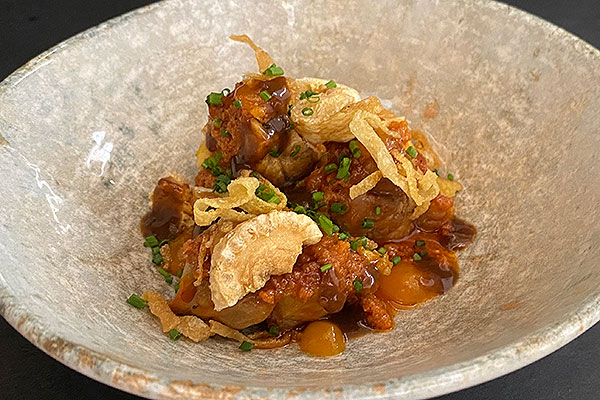 Pollo campero
roasted free-range chicken with Majorcan oranges, sobrasada, honey, rosemary and crispy suckling pig pops.
11,90 €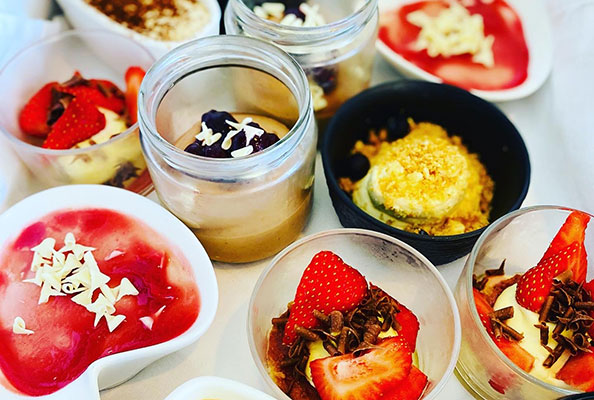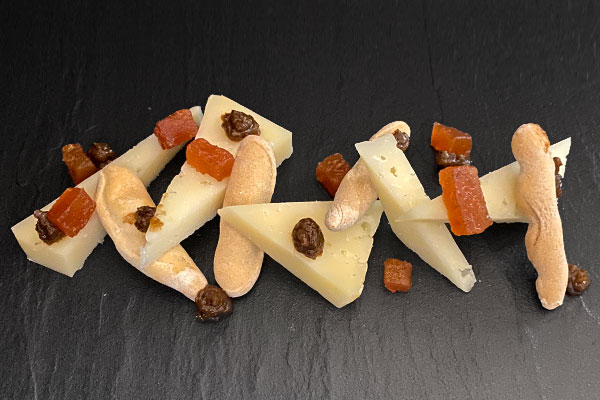 Aged Spanish manchego
with quince jelly.
6,90 €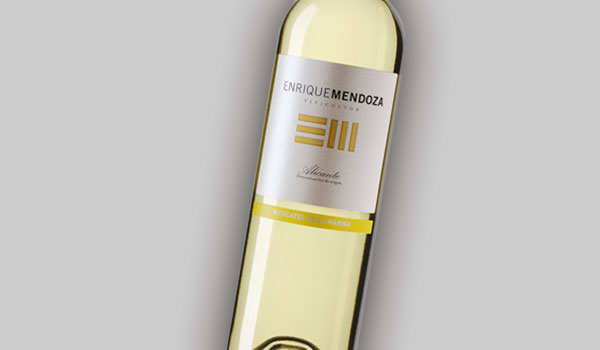 Enrique Mendoza
Dulce | Moscatel de la Marina
copa 6,50 €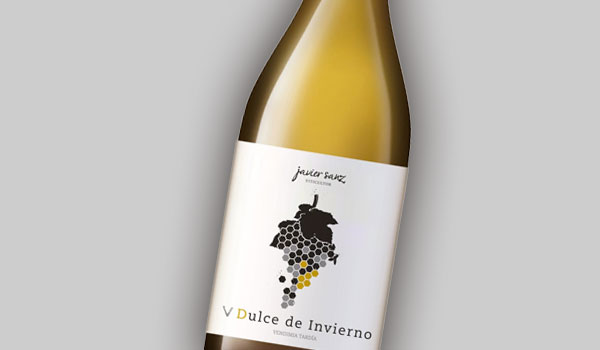 Javier Sanz Ice Wine
Dulce | Moscatel
copa 6,50 €