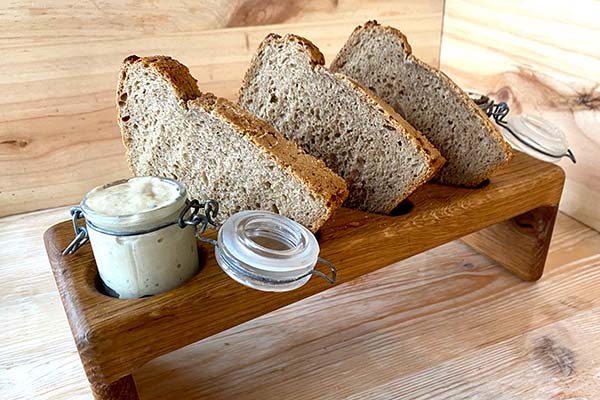 Our bread
mediterranean bread baked with orange
and lemon with olive tapenade and dip.
4,50 €
Mini soup
Mini soup of Sóller prawns, crispy hash browns, seafood chutney and rouille sauce.
one piece 6,80 €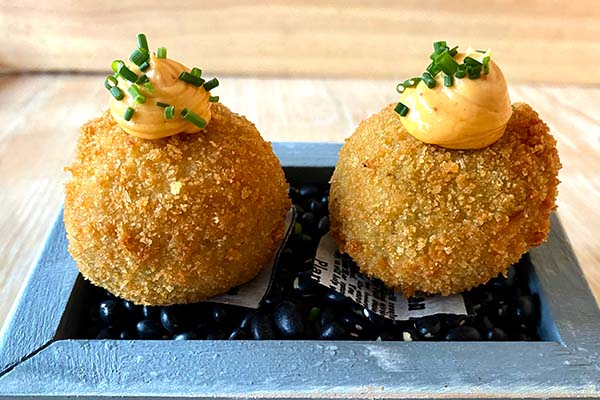 veggie croquettes
Two Garden herb croquettes with
charcoal paprika cream and chives.
5,80 €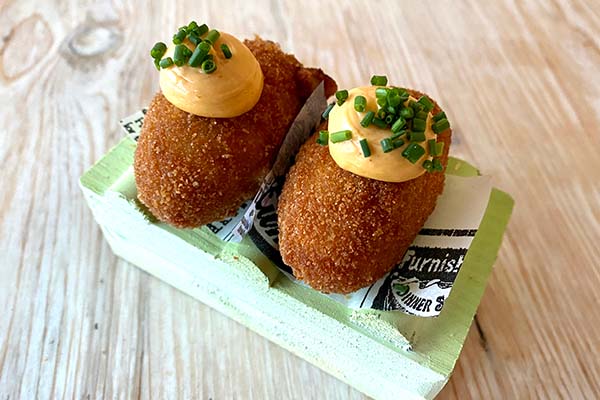 chorizo croquettes
Two Chorizo sausages croquettes with
charcoal paprika sauce and chives.
5,80 €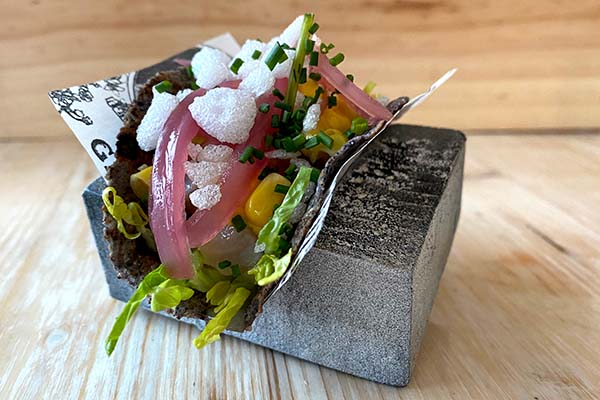 corn taco
Purple corn taco with yellowtail fish ceviche and saffron mayonnaise, sweet sour onion, sweetcorn, lettuce, Kropek.
One piece 4,60 €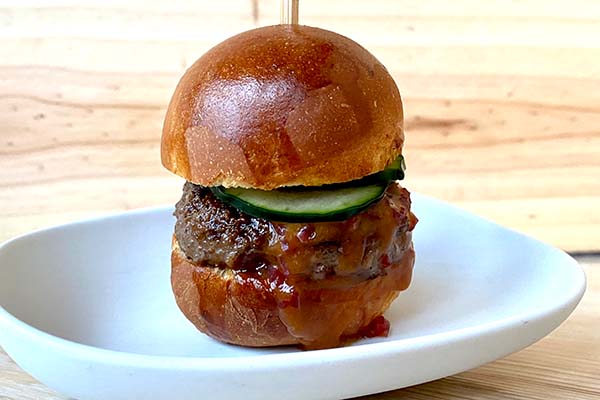 Mini beef burger
Black Angus Mini beef burger with special sauce, smoked beef ham and cucumber relish.
One piece 7,90 €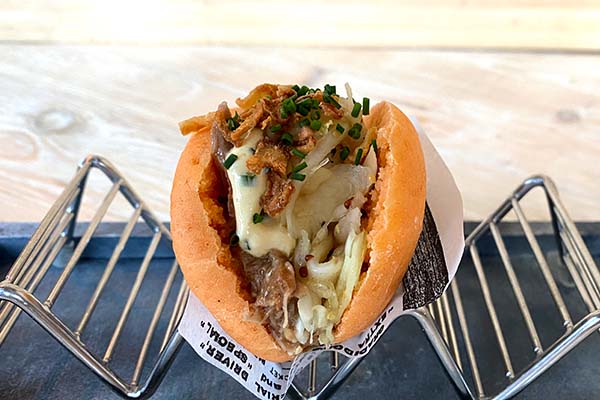 Bao Buns
Bao Buns filled with pulled pork, coleslaw and jalapeño-smoked roasted-onion cream.
One piece 4,60 €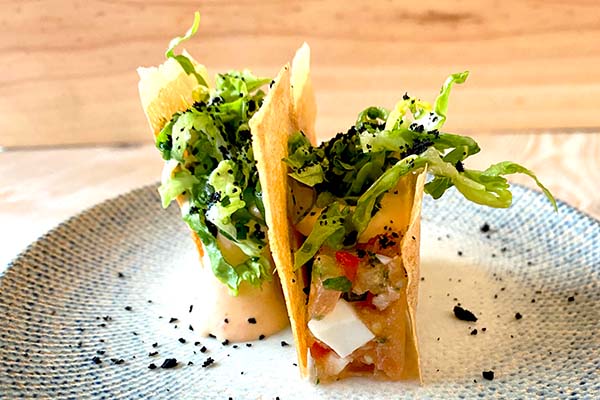 Nicoise salad
Two bites of jelled Nicoise salad with yoghurt paprika espuma, Tomato Brick Dough, Basil, salad, tuna and egg.
6,50 €
Welcome to the Es Passeig Restaurant
Our concept:
gourmet tasting
All of our dishes are served in small portions so that you can effortlessly try out a lot, order more at any time and share with each other.
We look forward to you embarking on a culinary journey around the world.
The Es Passeig team wishes you a relaxing time in our restaurant.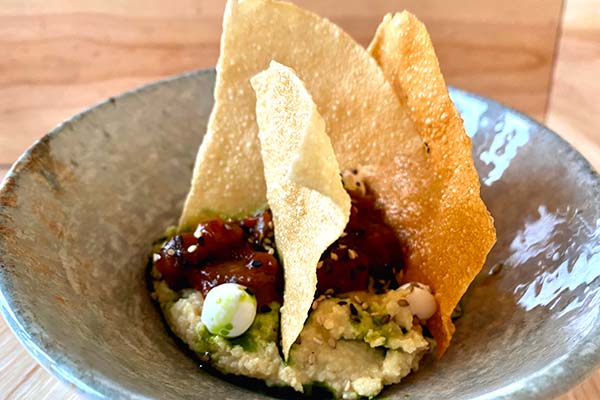 Hummus
with sesame, Moroccan aubergine,
garlic yoghurt, cumin, herb oil and Papadam.
7,90 €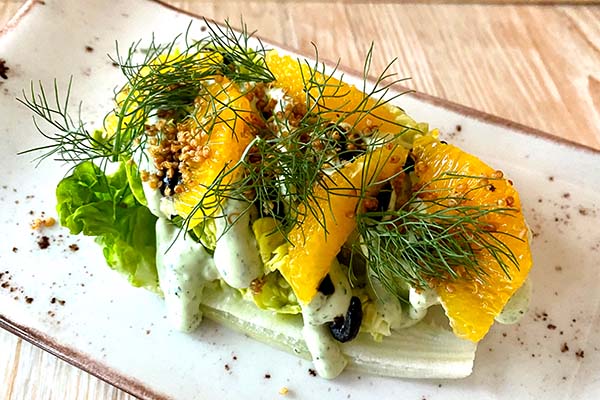 lettuce heart
Marinated lettuce heart with oranges from Sóller Herbal cream, orange vinaigrette, fermented garlic and crispy quinoa.
One piece 3,80 €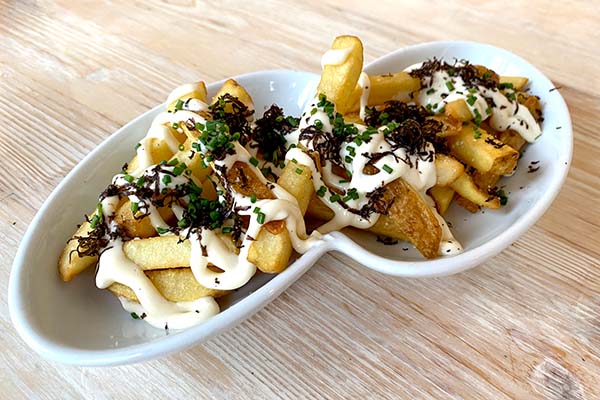 Truffle fries
with truffled mayonnaise, Black truffle, parmesan and chives.
5,90 €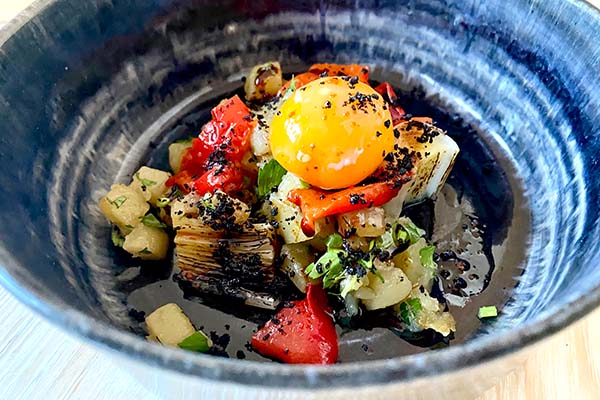 Leek cooked
sous vide, Potato confit, organic egg yolk, stewed peppers, olive powder, balsamic vinegar.
6,90 €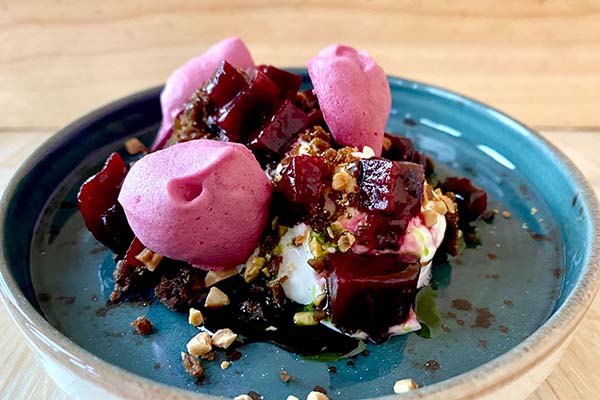 Goat cheese
Goat cheese espuma with beetroot air, Pumpernickel, chive oil, roasted almonds, balsamic reduction.
8,50 €
Spaghettis
turned in a Parmesan wheel with black truffle, truffle sauce and chives.
13,50 €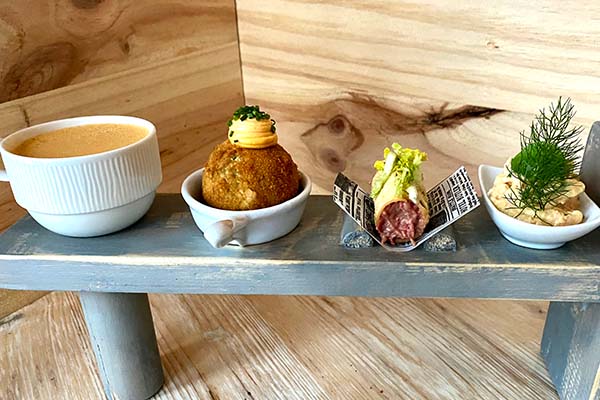 Mini world tour
Let yourself be surprised
per Person 12,50 €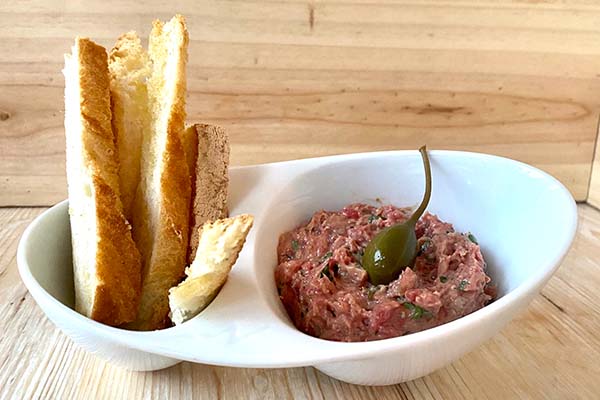 steak tartare
Classic raw beef steak tartare, served with toasted bread.
16,50 € (100gr)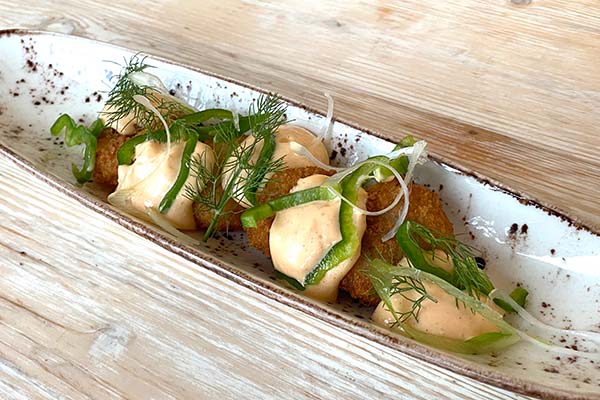 Crispy prawns
in panko bread batter with Italian peppers, spring onions and "Salsa Brava Espuma" foam.
9,90 €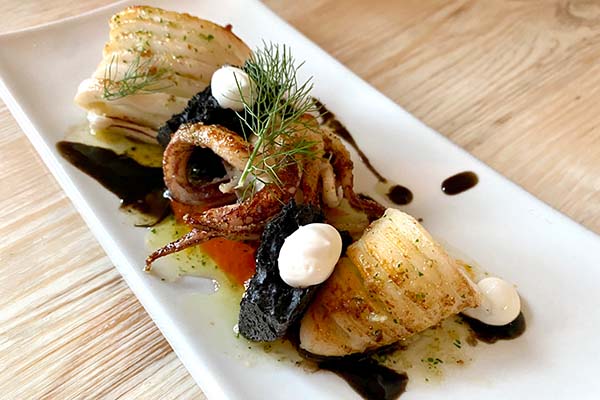 Mediterranean calamar
with ash sauce, bell pepper, sepia coral, aioli and herb oil.
12,90 €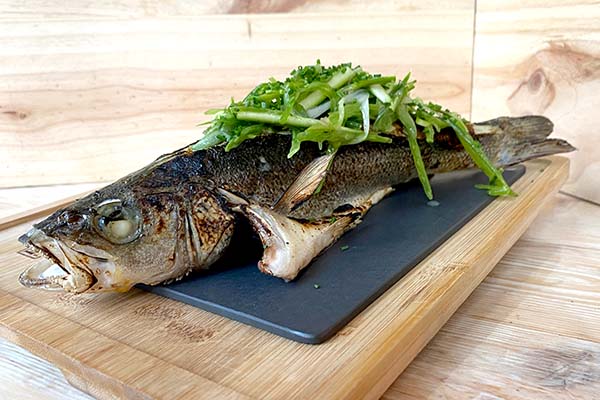 Whole Sea bass
from the oven with Cafe de Paris butter, asparagus salad snow peas, spring onions, herb-lime Dressing.
14,90 €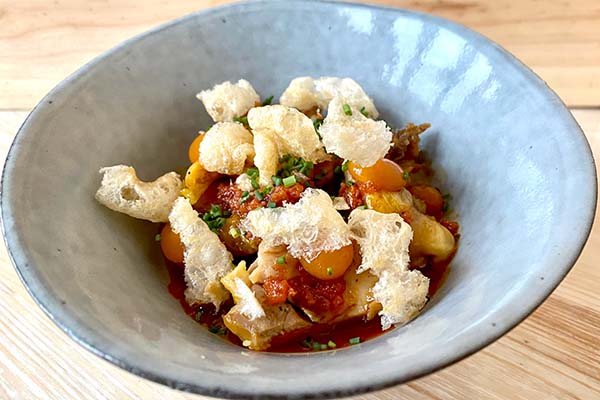 Pollo Campero
Roasted free-range chicken thigh with Majorcan orange, sobrasada, honey, rosemary and crispy suckling pig pops.
11,90 €
Lamb Fillet
Marinated lamb fillet with polenta espuma,
olive dust, artichokes, herb oil.
10,90 €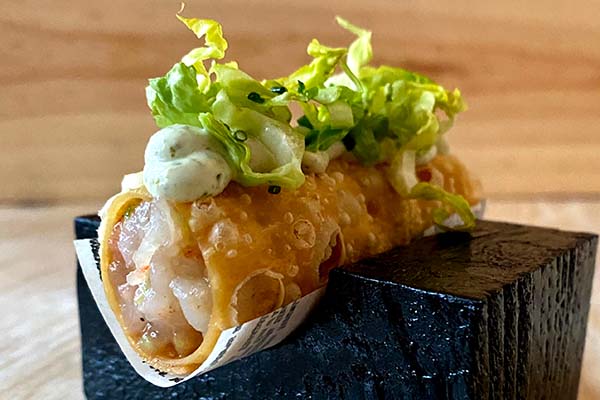 Cannelloni
Crispy cold Cannelloni filled with raw tartar of Sóller prawns and green pepper sauce.
One piece 6,90 €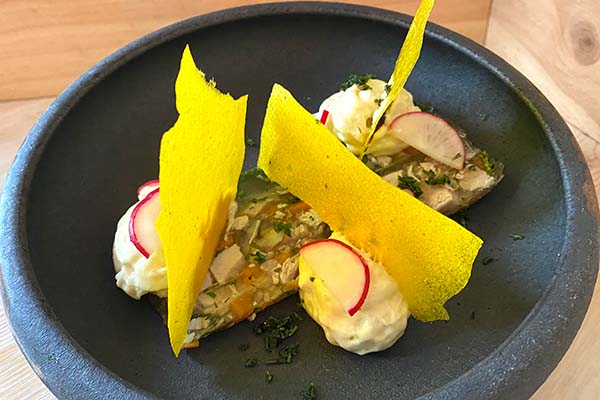 pig aspic
Suckling pig aspic, potato salad Espuma,
mustard potato leaves and herbal powder.
7,90 €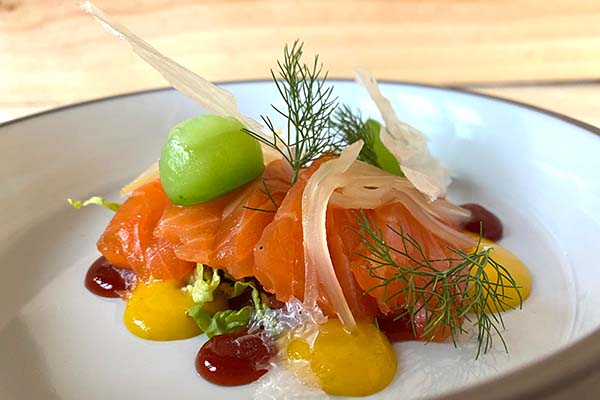 Pickled salmon
with Aji Chili sauce, cucumber, celery sweet sour and cristal plate.
8,90 €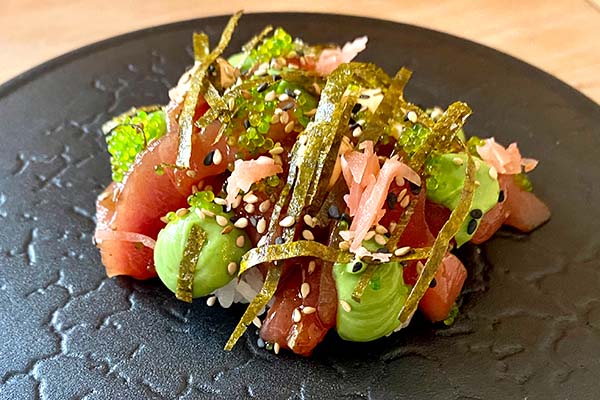 Open sushi
with marinated tuna, ginger, avocado, nori, kimchi mayonnaise, sesame and wasabi caviar.
10,90 €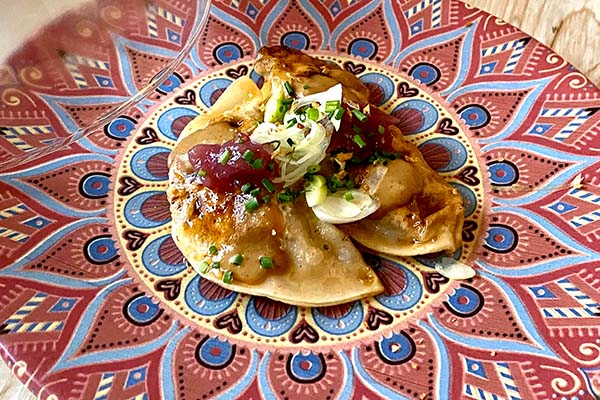 Gyozas
Two Duck gyozas smoked at the table
in a ceviche broth with peanut sauce
spring leek, fried garlic and red wine onion chutney.
10,90 €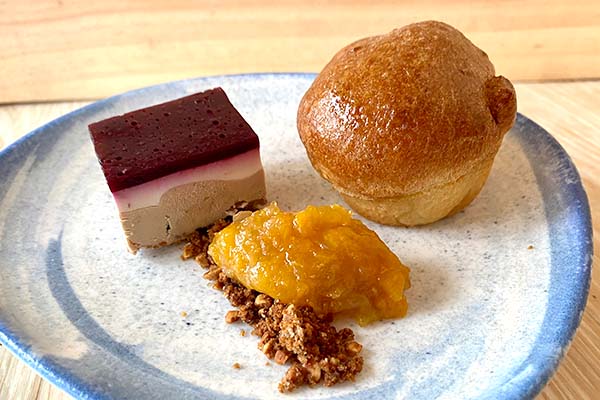 Duck liver terrine
with Creme fraiche, port wine cassis, almond, bread dough Thyme-Apricot Chutney and Chocolate Brioche.
8,90 €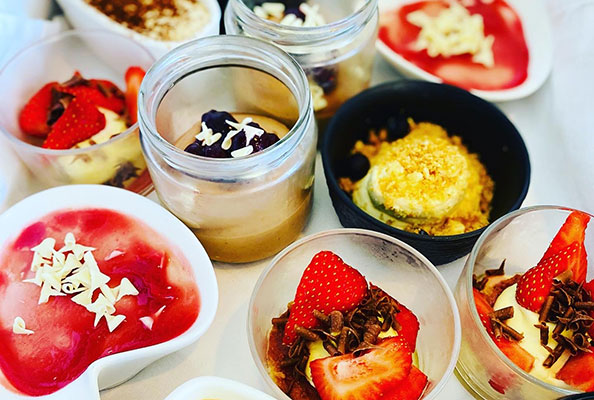 Aged Spanish manchego
with quince jelly, balsamic pesto and cracker.
7,50 €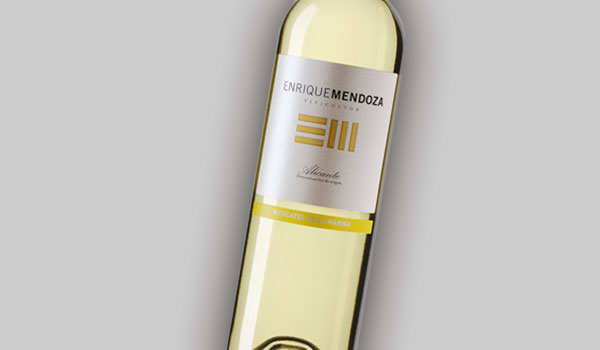 Enrique Mendoza
Moscatel de la Marina
Bodega Mendoza, Alicante
glass 4cl 6,50 €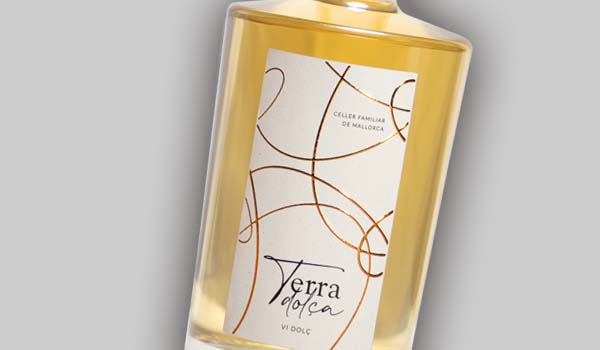 Terra Dolça
Moscatel, Chardonnay
Bodega Blanca Terra, Mallorca
glass 4cl 6,50 €