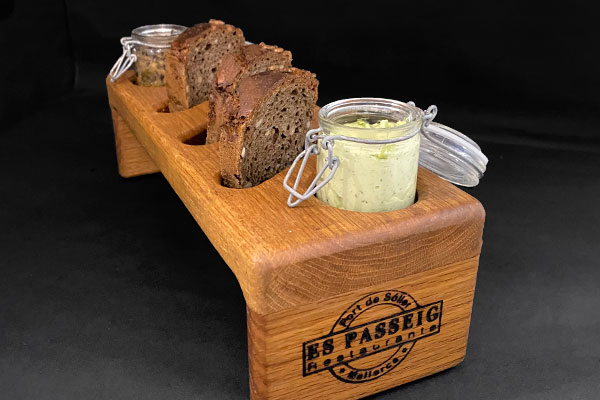 mediterranean bread
baked with orange and lemon with Olive tapenade and dip.
4,20 €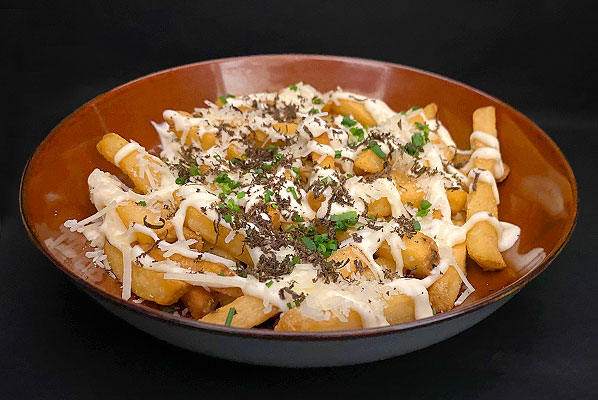 Truffle fries
with truffled mayonnaise, black truffle, parmesan and chives.
6,90 €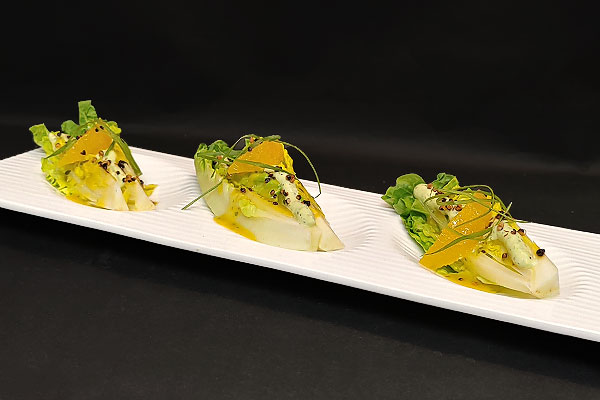 Marinated lettuce hearts
with oranges from Sóller, fine herb sauce, orange vinaigrette, fermented garlic and crispy quinoa.
10,90 €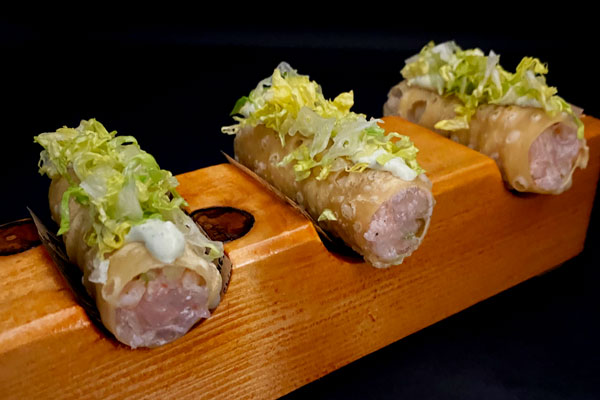 Cannelloni
3 crispy cold Cannelloni filled with raw tartar of Sóller prawns and green pepper sauce.
16,90 €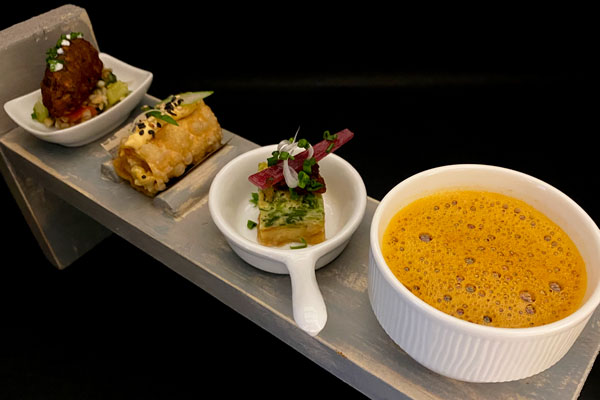 Our mini world tour
a small variation, let yourself be surprised
Price per person.
12,50 €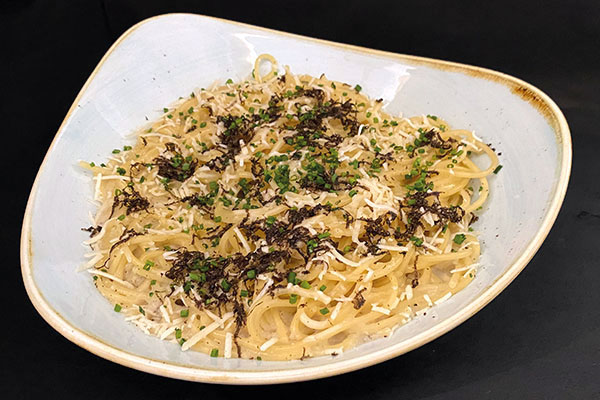 Spaghettis
spaghettis turned in a Parmesan wheel with black truffle, truffle sauce and chives.
small 13,50 € | large 19,90 €
Raw beef steak tartare
of Majorcan Wagyu Beef Finca Son Bellut, freshly made, served with toasted bread.

100gr 16,50 € | 180gr 25,50 €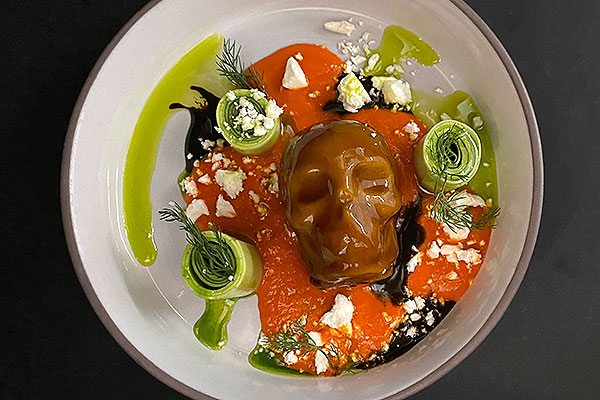 Eggplant
skull in Majorcan pirate style, mushroom Dashi, red pepper reduction, marinated zucchini, herb oil, Feta, garlic croutons.
11,90 €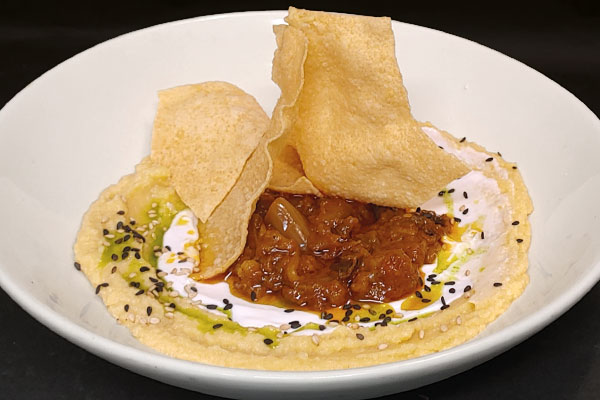 Hummus
with sesame, Moroccan aubergine, garlic yoghurt, cumin, herb oil and Papadum bread.
8,90 €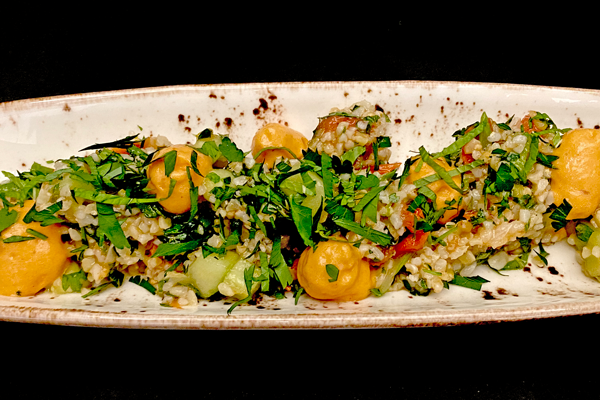 Tabbouleh salad
with bulgur, cucumber, tomato espuma, parsley, mint, spring onions
6,90 €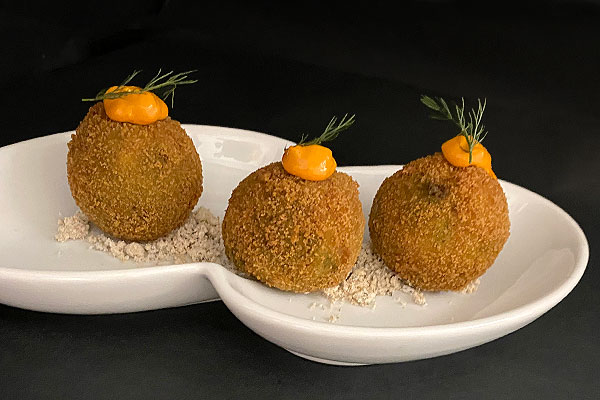 Croquettes
Garden herb croquettes with charcoal paprika cream and chives.
7,50 €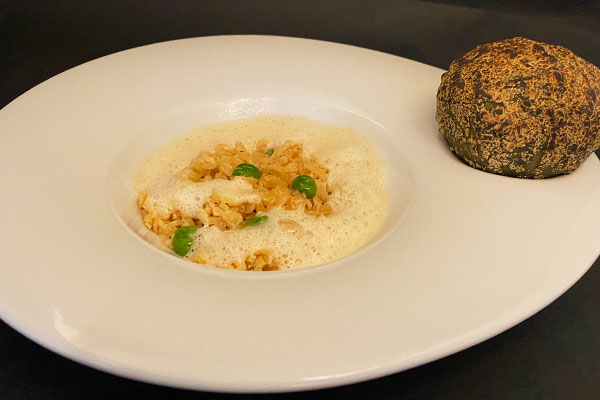 Whole potato
cooked in a herb-salt coating with Beurre blanc coffee sauce braised Noilly Prat Vermouth shallots and spinach cream.
11,90 €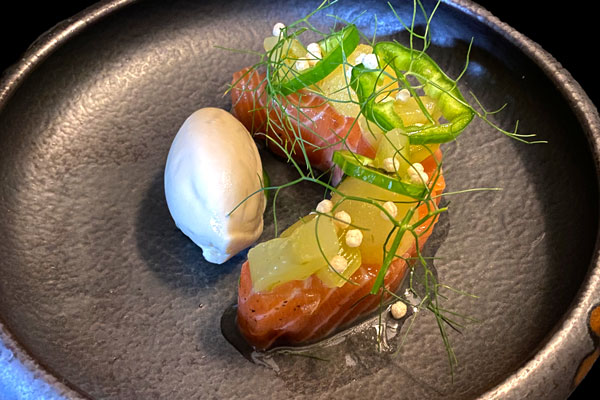 mojito salmon
Pickled mojito salmon with spiced ice cream, lime, cucumber, green peppers, granny smith apple and mint.

12,90 €
Mediterranean calamar
with ash sauce, bell pepper, sepia coral, aioli and herb oil.
12,90 €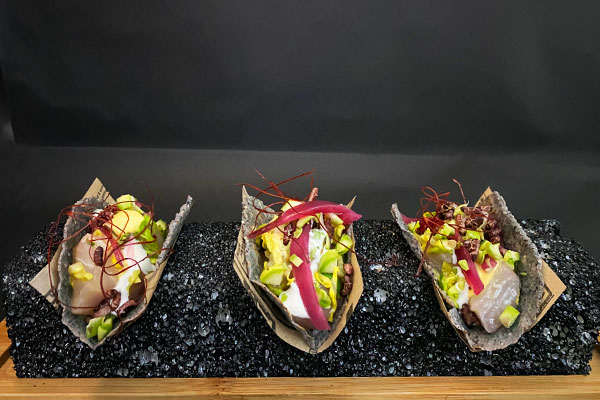 Purple corn tacos
with yellowtail fish ceviche and saffron cockle sauce, chilli threads, onions, asparagus, lemon Crème fraîche and puffed rice.
10,90 €
Crispy prawns
in panko bread batter with Italian peppers, spring onions and "Salsa Brava Espuma" foam.
11,90 €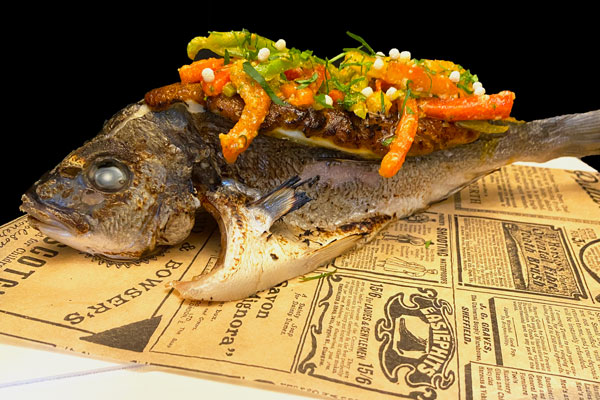 Mediterranean sea bream
roasted whole, with red pesto, cashew, sage, paprika and Cafe de Paris butter.
14,90 €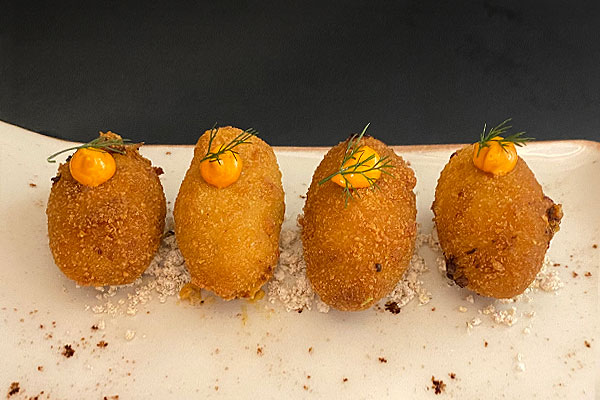 Croquettes
spanish chorizo croquettes with charcoal paprika sauce and chives.
7,50 €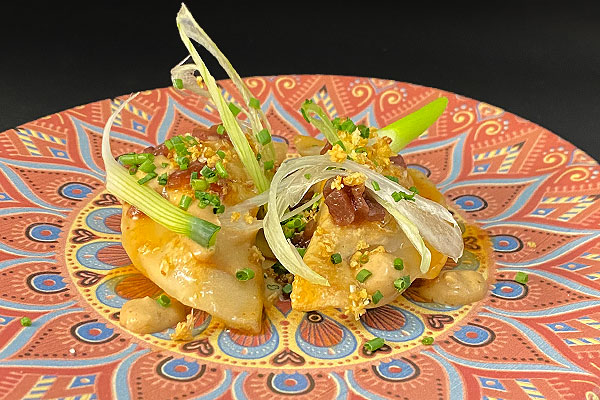 Duck gyozas
smoked at the table in a ceviche broth with peanut sauce, spring leek, fried garlic and red wine onion chutney.
10,90 €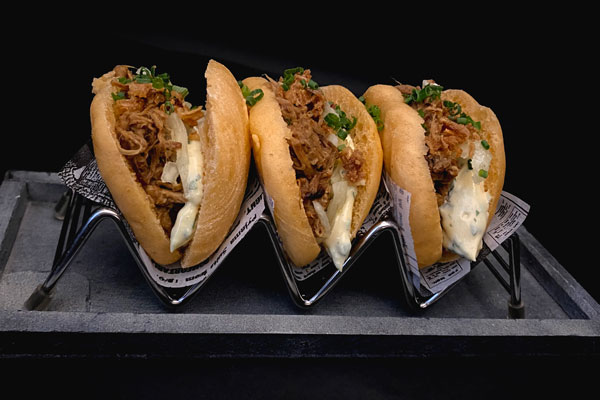 Bao buns
filled with pulled pork, coleslaw and jalapeño-smoked roasted-onion cream.
13,00 €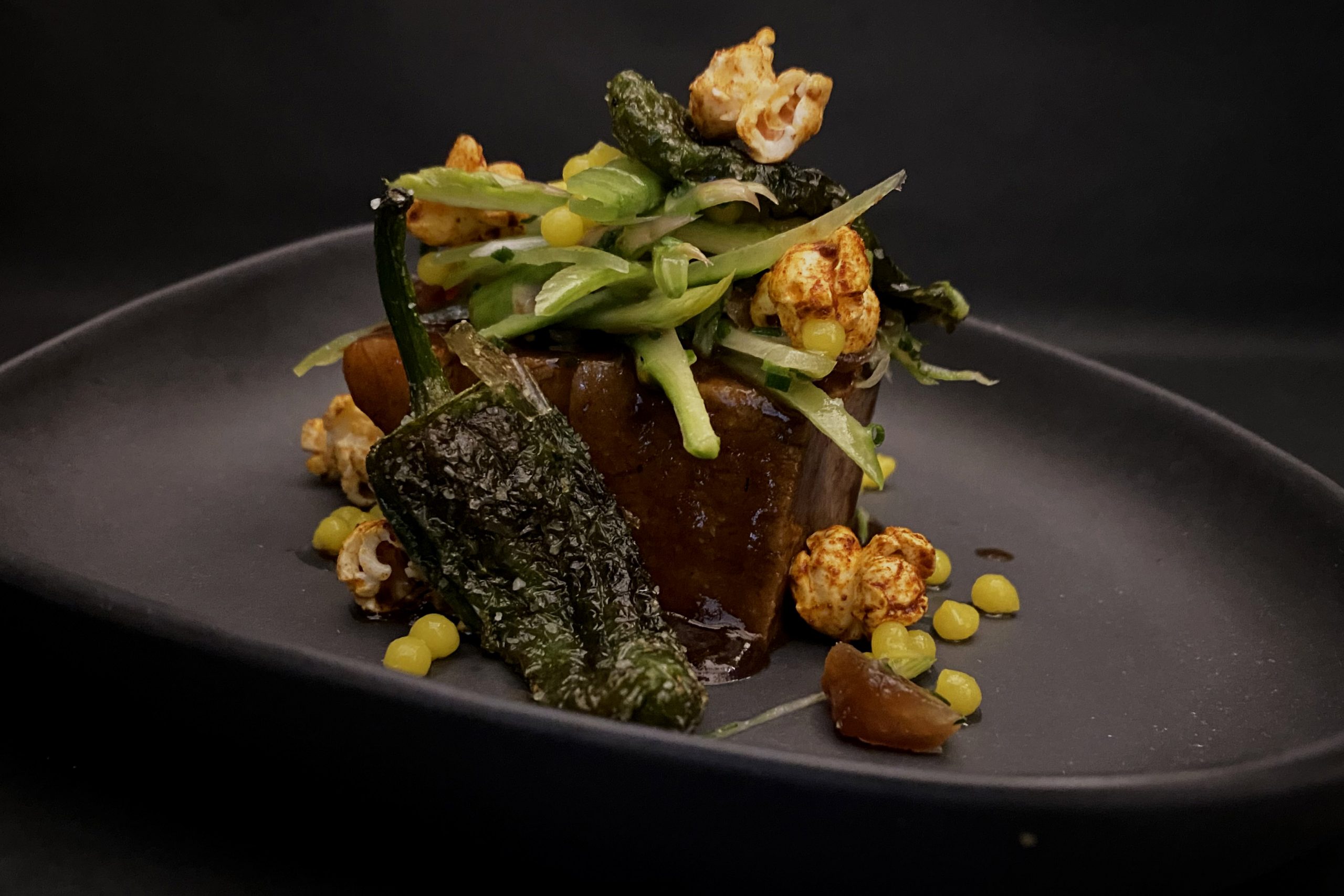 beef neck
72 hours sous vide cooked neck of beef with Jus, sweet corn, smoked popcorn, Pimientos de Padron, asparagus, dates, snow peas, spring leeks .
14,90 €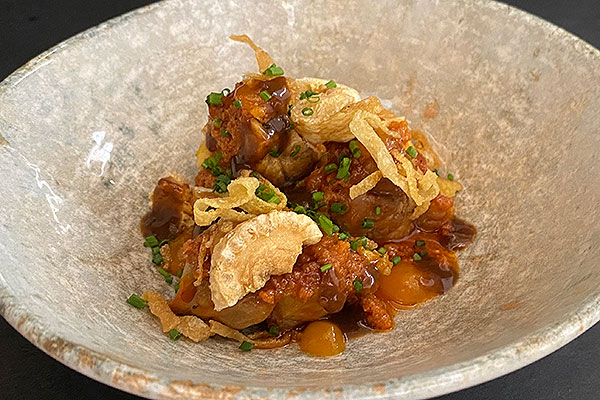 Pollo campero
roasted free-range chicken with Majorcan oranges, sobrasada, honey, rosemary and crispy suckling pig pops.
11,90 €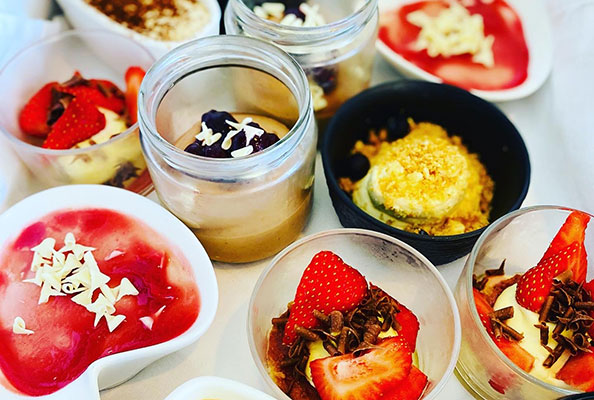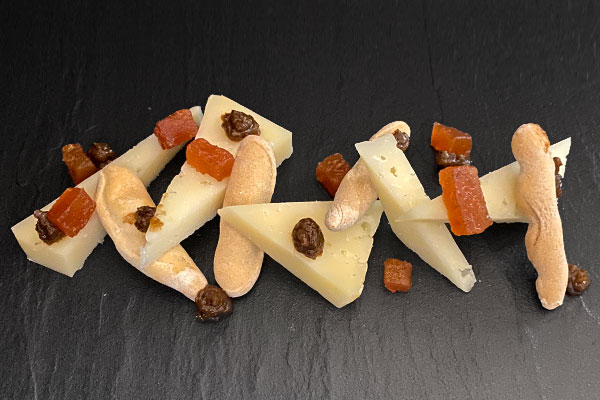 Aged Spanish manchego
with quince jelly.
6,90 €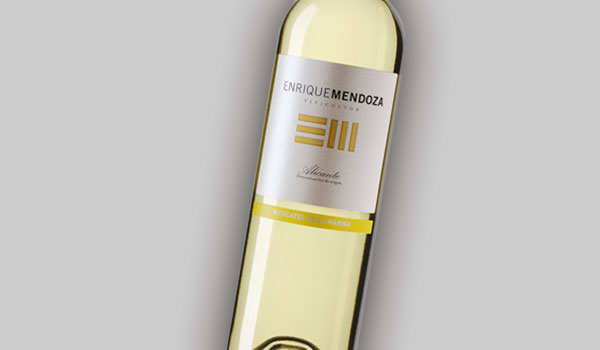 Enrique Mendoza
Dulce | Moscatel de la Marina
copa 6,50 €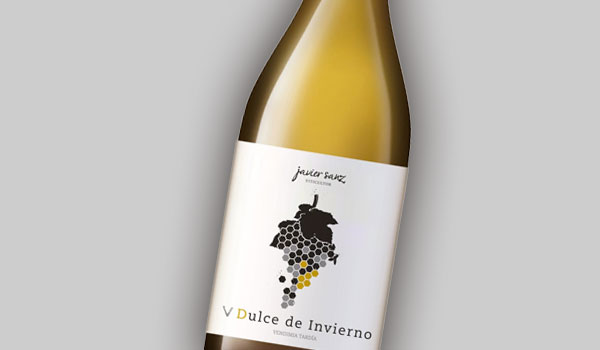 Javier Sanz Ice Wine
Dulce | Moscatel
copa 6,50 €